∖ Web3 Summit
∖
Impact the economy
November, 2023 ∖ Vilnius ∖ Lithuanian Exhibition and Congress Centre LITEXPO, Vilnius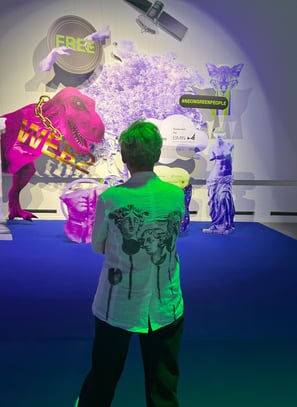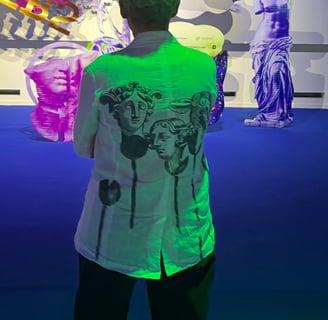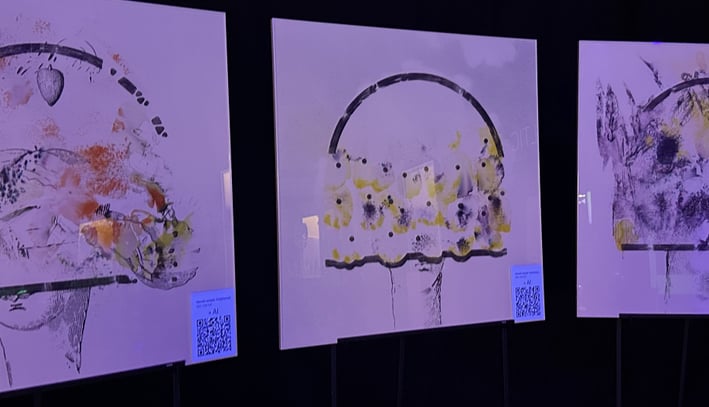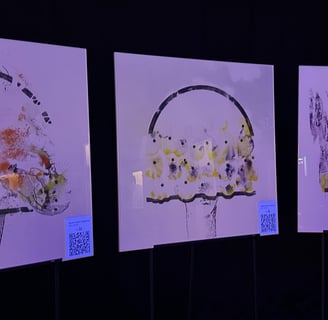 Artworks with AI interpretations were presented at a one-day conference organised by SUPER HOW?. Web3 supports the correlation between innovation and art.
See AI interpretations here
∖ Personal exhibition Portraits of emotions
October 18-27 , 2023 ∖ Vilnius ∖ SEB bankas, Head Office
∖ Artificial intelligence in finance - colleague or competitor?
September, 2023 ∖ Vilnius ∖ SEB CFO Forum 2023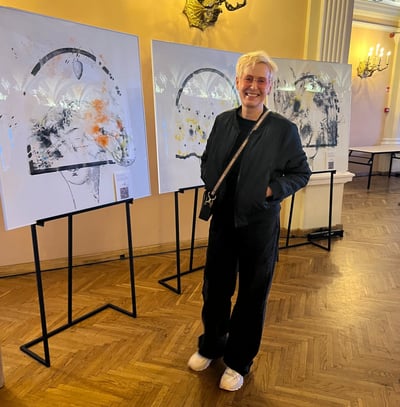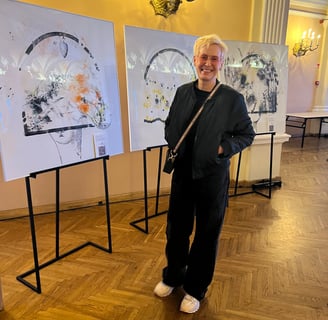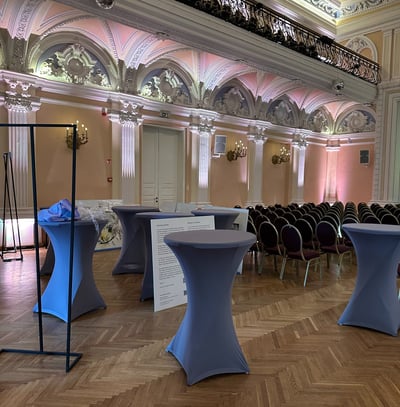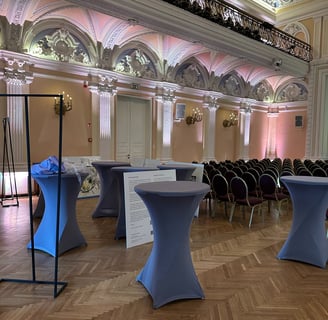 ∖ Anniversary Charity evening of the "Mamų unija"
September, 2023 ∖ Vilnius
My watercolor painting "Lily Garden" sold for €16 000 at the "Mamu unijos" charity auction! Thank you to the buyer who purchased the artwork. The work consists of two parts: a watercolor and a digital AI part. The AI creates new interpretations of the painting.
AI interpretations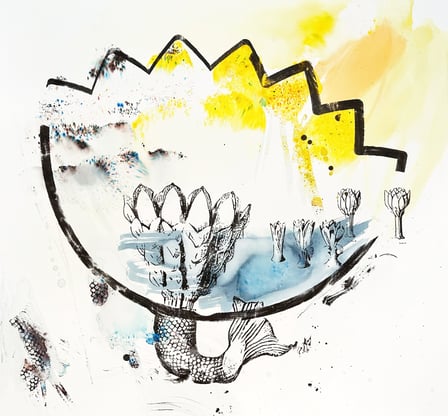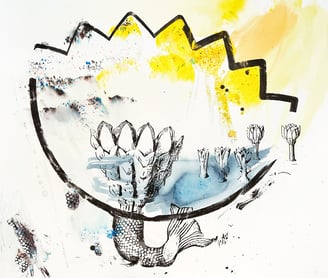 ∖ Making a painting wiggle: collaboration with Egmontas Geras
September, 2023 ∖ Vilnius
Together with a designer Egmontas Geras we have set two goals: to generate new images resembling the paintings; to generate before-and-after images in order to construct an illusion of the work behaving through time. Tiles of my original painting were taken to form a dataset.
Here you can find the full article about our work.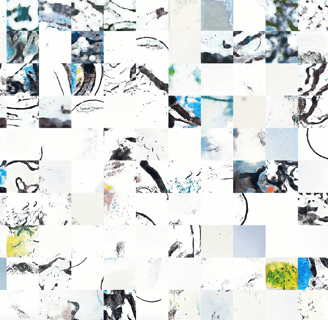 ∖ Loftas FEST'23
September 7-9, 2023 ∖ Menu fabrikas loftas, Vilnius
Loftas fest is a city-powered contemporary art & music festival. This year Loftas fest stood out for my "Antifragility" paintings, bringing interactivity and expanded reality possibilities together with art.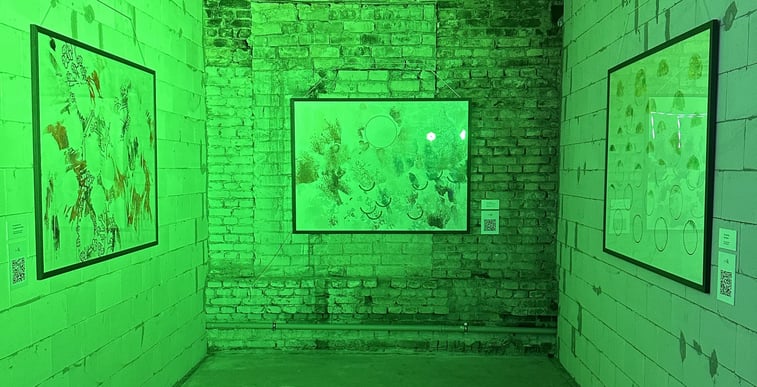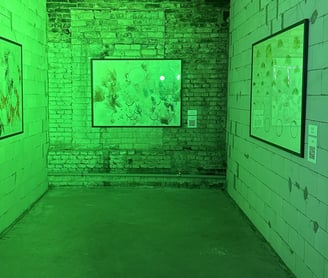 ∖ Midsummer Gala
June 22, 2023 ∖ Grand Hotel Kempinski, Vilnius
Thank you to Deividas Mataciunas (on the left) for creating the AI art from my paintings.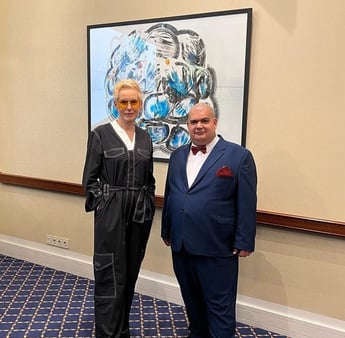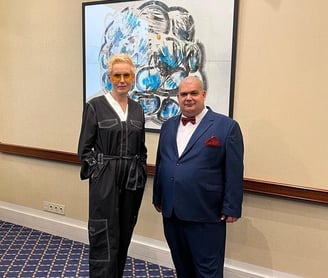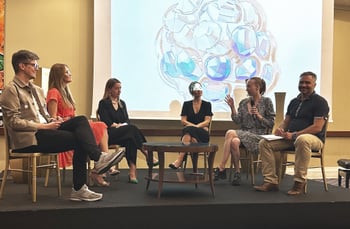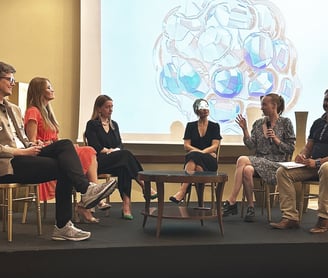 Menas atveria visus kelius / Art opens all paths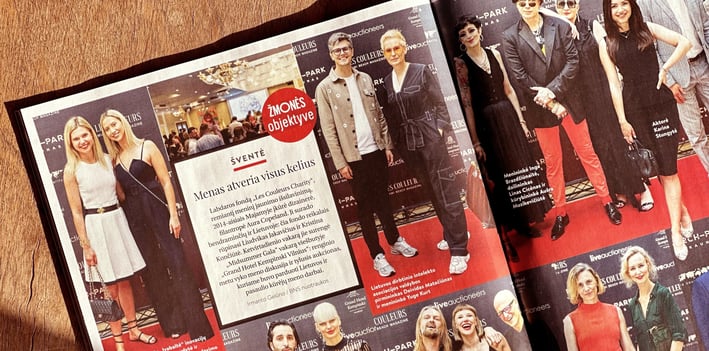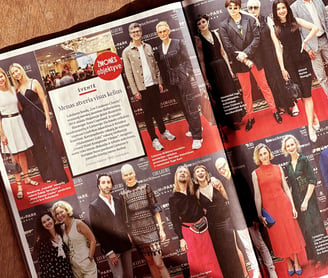 Magazine "Zmones" Nr.26, 2023
∖ Personal exhibition ANTI/FRAGILITY
May 11, 2023 - June 29, 2023 ∖ Dumu fabrikas, Vilnius
The exhibition at Dumu fabrikas had a grand opening! It was a remarkable event where my art, alongside AI-art variations by Deividas Mataciunas, and the mesmerizing music by Natas Kunas, came together to create something truly magical.
I want to extend my heartfelt gratitude to everyone who attended! 👁️‍🗨️ In case you missed it, we captured the beautiful moments, memories, and overall atmosphere of the exhibition in a short video.
You and your emotions are the inspiration for my existing and new artworks. I wish you pleasant moments of viewing. 👁️‍🗨️
∖ 9th International Watercolor Biennale BALTIC BRIDGES 2022
September 09, 2022 ∖ Gallery DROBE
A special exhibition, because after 1.5 years of working in the watercolor technique, it became my first introduction. A large-format watercolor titled "That feeling of loving orderly chaos" is the beginning of a new theme.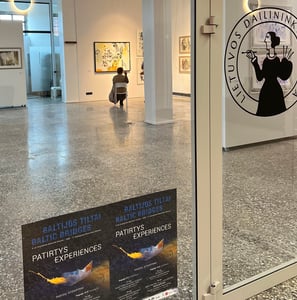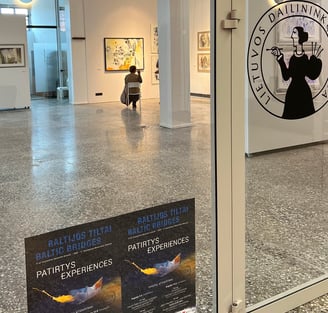 ∖ The 9th international watercolor biennial BALTIC BRIDGES 2022 "Experiences" accompanying exhibition "Gijos"
November 09, 2022 ∖ Alytus Cultural Center
Continuation of the exhibition
Participants: Voldemaras Barakauskas (Šiauliai), Benjamians Benas Jencius (Alytus), Girmantas Rudokas (Panevėžys), Julija Skudutyte (Vilnius), Daiva Šlajienė (Kaunas), Virginija Laužadienė (Kaunas), Elma Sturmaite (Druskininkai), Rimvydas Mulevicius (Kaunas), Yuge Kurt (Vilnius), Violeta Židonytė (Kaunas), Bangutis Prapuolenis (Kaunas), Laimutė Vološkevičienė (Panevėžys), Marija Marcelionyte-Paliukė (Vilnius).
∖ It is new me
October, 2020
Sometimes a random question can prompt you to start over. And that's what happened to me when I heard a question one day. So why don't you draw? And aquarelle seems like a great technique for a new beginning.
∖ Pre story
1995 - 2018
Participation in exhibitions: in Lithuania, France, Switzerland, Finland
Member of Lithuanian Artists' Association from 2000
Bachelor and Master of Fine Arts Degree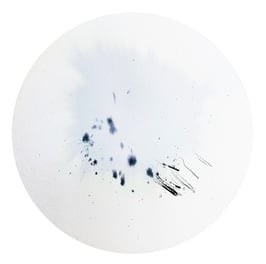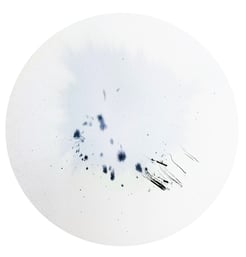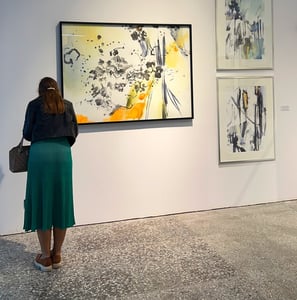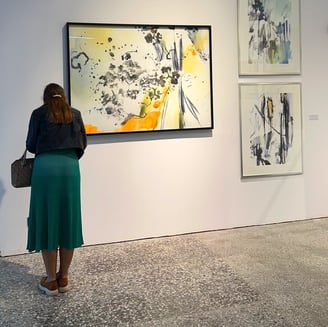 About the exhibition
"I have to be antifragile when pouring watercolor because there is no certain way of knowing what the final image will be. The strokes themselves must be fragile and transparent."
Yuge Kurt
The exhibition ANTI/FRAGILITY is a unique opportunity to see the synthesis of art and technology. The exhibition unfolds a multi-layered narrative of what constitutes fragile agility. The artworks prompt questions: when can we allow ourselves to be fragile? And when should we be agile? And for how long? Experiencing uncertainty can be associated with stress, instability, or change in values, or, on the contrary, it can strengthen your purpose and clarity. In large-scale watercolor paintings, fragile agility is pressing in, in various guises: unfinished form, strange rhythm, empty spots, limited color, and transparency…
The watercolor technique is unique in that the works always have a moment of unpredictability. This exhibition will provoke you to let go of control and embark on a journey of feelings. All archetypal moments can be recognized in our own experiences.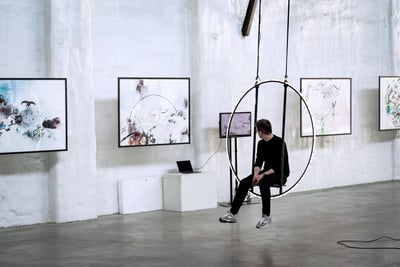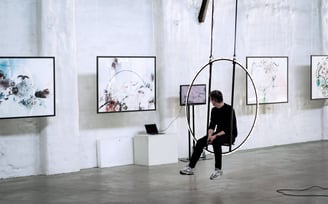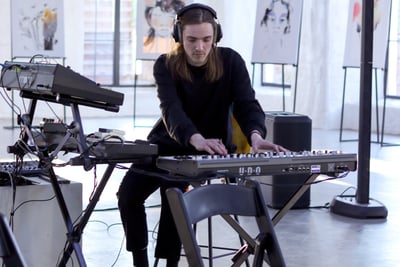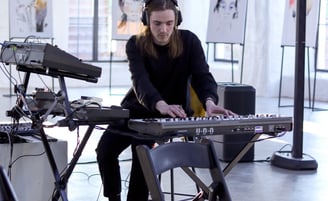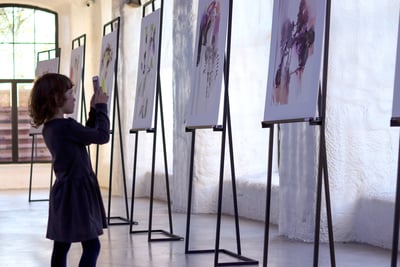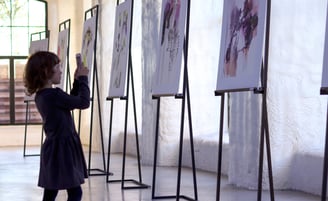 I layer / Large-scale watercolors represent paintings with thoughts and feelings. The important thing here is to meet the story and let ourselves be guided by it.
II layer / In the digital layer, we live in the here and now. AI is an invitation to absorb the details of a different world.
III layer / Musical layer – mesmerizing sounds and colorful images in a powerful space are the most beautiful and effective combination. (Composer Natas Kunas)
The exhibition is dedicated to the 700th anniversary of Vilnius.
Event team: curator - Kotryna Kurt, AI technologies - Deividas Matačiūnas, texts - Raimonda Kriaučiūnaitė and ChatGPT, exhibition assistant - Gabija Kurkulytė
Photo by Augustinas Žukovas, Agne Kuldoša, Vilmantas Arbačiauskas
Email: yugekurt@gmail.com